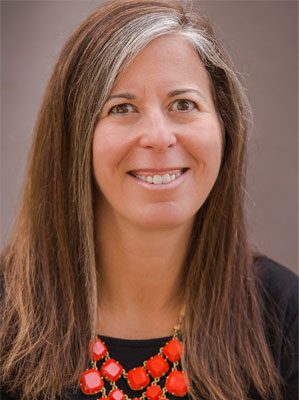 Adrienne Walkowiak is a marketing, public relations and writing professional with more than 20 years in the communications industry.  She has planned, implemented and managed strategic public relations and marketing campaigns for clients across a variety of industries, including health-care, business, finance, legal, government, food service, HR, association, entertainment, and retail.
She has extensive agency experience, having worked as a Vice President at Fleishman-Hillard International Communications, a prestigious worldwide communications firm, in their bustling Washington, DC office.   While at F-H, Adrienne worked on a variety of high-profile branding, marketing and PR campaigns for AARP, the United States Mint, the Library of Congress, the Vision Council of America and more.
After moving from DC to New Hampshire in 2005, she worked as the Director, Public Affairs and Marketing at the Elliot Health System in Manchester, NH.  She also played an integral role in the marketing and public relations teams at several full service communications firms in New Hampshire.
In 2007, she opened Adrienne Walkowiak Marketing, allowing her to pursue projects that were personally meaningful.  She has built a wide roster of clients and continues to get impressive results for them. She only accepts clients that she's passionate about and that she believes in.  (You'll never see her promoting tobacco products, for instance, or companies that produce junk food!)
Throughout her career, she has worked closely with the media on a local, regional and national basis, and has placed positive stories for her clients in a variety of prestigious outlets, including the Today Show, USA Today, The New York Times , The Washington Post, The Huffington Post, Cooking Light, Self, Working Mother and more.
Adrienne is also a strong writer who has successfully drafted articles, newsletters, web copy, advertisements, brochures, annual reports, and award nominations on behalf of her clients.
A graduate of Boston University's College of Communication, Adrienne received a Bachelor of Science degree in Journalism.
Adrienne is committed to community service, and is especially passionate about working with children's organizations. She has devoted time and professional services to several schools on the New Hampshire Seacoast, as well as the Make-A-Wish Foundation® of New Hampshire. She has also donated long chunks of her hair to Locks of Love, a non-profit organization that makes human hair wigs for children that have lost their hair due to illness. Additionally, Adrienne participates in walks and runs to raise money for local health-care organizations.
As the mother of two young daughters, Adrienne spends a ton of time cheering on the sidelines of her girls' soccer and softball games.  In her (limited) free time, she obsesses about her garden, watches the Food Network, cooks, reads, knits, runs, hikes, bikes and looks forward to a nice glass of wine.